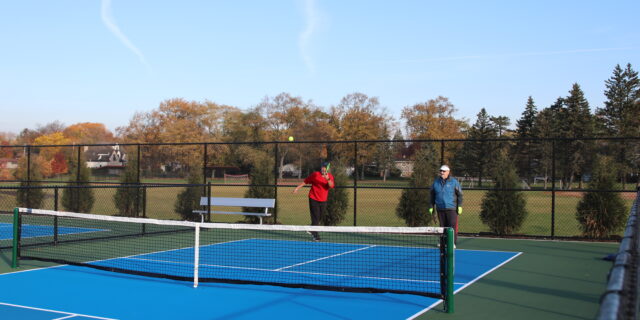 OUTDOOR court Hours
Open from 7am to sunset.
School District 109 students have priority usage of Shepard Pickleball Courts on schooldays from 11:30am to 4pm.
etiquette & Rules
Courts cannot be reserved, first players to arrive play first.
Show courtesy to all by refraining from loud music, noise, and vulgar language.
Courts are for racket sports only. Bicycles, basketballs, skateboards, soccer balls, lacrosse, rollerblades, and pets are not permitted on the courts.
Play is not permitted when there is snow and/or ice. Shoveling is prohibited.
Use courts at your own risk, park district is not responsible for injuries or loss of property.
Deerfield Park District programs have priority use of courts.
School District 109 students have priority use on school days from 11:30am-4pm.
For-profit use of courts by any individual or organization is prohibited. Private instruction, leagues, and tournaments are not permitted.
Court usage is subject to the Deerfield Park District Conduct Code.
Report any suspicious or unusual activity to the Deerfield Police Department.
When courts are full
Use the rack up system to reserve a court and determine order of play.
Limit play to be considerate of others while players are waiting.
outdoor court locations