Group exercise Class Options
Important details when registering for group exercise classes, lap swim, training or tennis – All members and guests who have previously registered for a park district program or membership already have an account with us. If you don't know your username (your username is not your e-mail), click the "forgot username or password" tab on the Web Trac Login screen. Do not register for a new account. If you are having difficulty retrieving your username, please call the SRC front desk at 847-572-2600 for assistance. Registration for these classes will begin 5 full days prior to the start of each class for residents and 4 full days prior to the start of each class for non-residents and end 2 hours prior to the start of each class.
GROUP EXERCISE CLASSES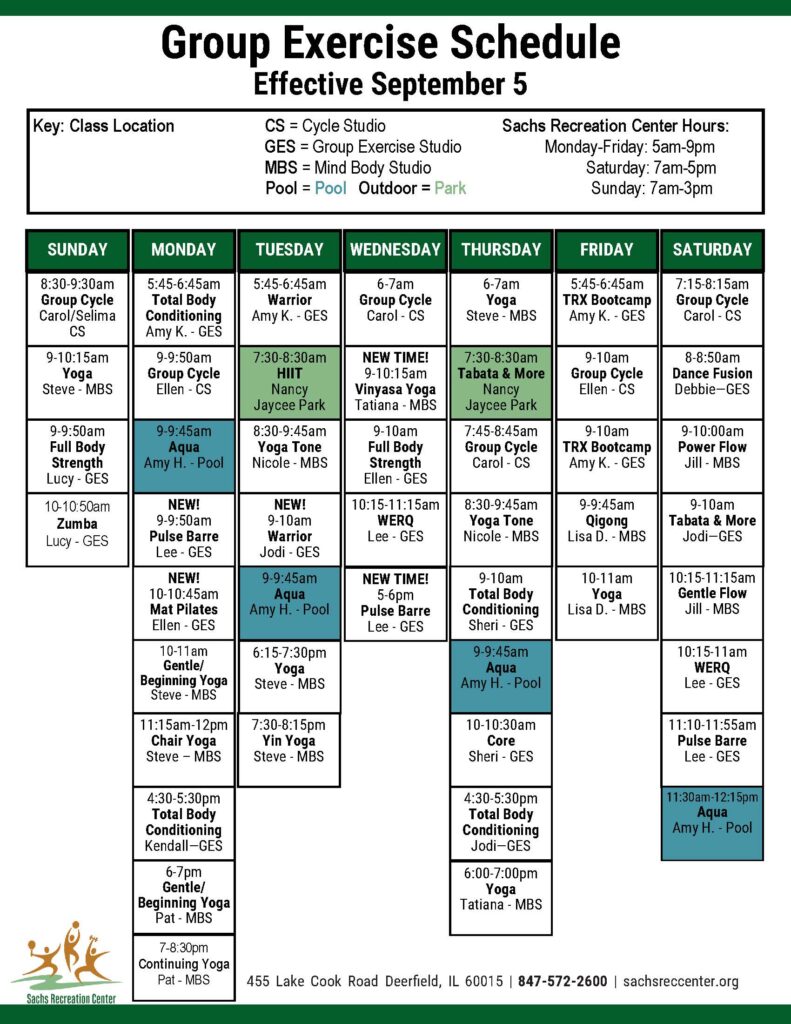 September group exercise schedule Schedule effective September 5
October group exercise schedule Schedule effective October 1
GROUP EXERCISE Membership
The Group Exercise Membership allows unlimited access to Indoor, Outdoor and Zoom group exercise classes. The pass is available for purchase in-person at the SRC and online. One pass is required per person.
A Group Exercise Membership is needed to view and participate in daily SRC Zoom exercise classes. Zoom Fitness Classes are held LIVE each day. Once the membership is purchased links to each Zoom class will be e-mailed to each pass holder each night along with a link to access (100) previously recorded Zoom classes. All classes are taught by Sachs Recreation Center certified staff.
Group Exercise class questions may be directed to Amy Kanzler,  amy@sachsreccenter.org.
Pass holders will need to reserve space in any group class to ensure capacity limits are not exceeded and provide an accurate accounting of attendees.
Membership price = $49 Resident / $60 Non-resident
Outdoor Group Exercise Class Weather Policy
The call will be made by 9pm the night before for class(s) the following day. Participants and instructors are responsible for checking the forecast to determine the class location for the next day. Communication will NOT be sent via email. For consistency please use www.weather.com
At that time based on the forecast if the chance of rain is less than 50% class will remain outside if it's greater than 50% class will be held at Sachs. The Group Exercise Studio is reserved at Sachs as a backup for classes and the indoor pool is reserved for aqua classes.
Please bring your own weights and mats to outdoor HIIT, Tabata & More classes. Aqua equipment will be provided.
Thank you in advance for your cooperation and assistance in following this policy.